#15 – Kaitlan Collins – CNN White House Correspondent
The hypocritical, virtue signaling CNN reporter who has often criticized President Trump for not wearing a mask in public, was caught on camera taking hers off the moment the White House press briefing ended. She then proceeded to walk past other reporters in the small press room with no social distancing on her way out.
The mask is for show? pic.twitter.com/XnRLiEJ1L5

— Power Tie (@realPowerTie) May 15, 2020
#14 – Michigan Governor Gretchen Whitmer's Husband  
Three days after Michigan Gov. Whitmer, a Democrat, announced that she was lifting some restrictions in areas before Memorial Day weekend, her hubby apparently tried to cut the queue at a marina so his boat would be in the waters by the holiday.
As the NY Post reported, "Michigan Gov. Gretchen Whitmer claimed her husband was just kidding when he dropped her name in an attempt to speed up the installation of his boat ahead of Memorial Day." "He regrets it. I wish it wouldn't have happened. And that's really all we have to say about it," Whitmer said.
#13 – Governor Phil Murphy of New Jersey
While Democrat Governor Murphy enforces strict lockdowns that are destroying businesses across the state of New Jersey, he did not let that stop him from eating out at a restaurant with his family. Maybe it was his way of letting the peasants know that the rules he created do not apply to him.
#12 – Governor Tom Wolf of Pennsylvania
After calling business owners "cowardly" for wanting to end strict lockdown orders and stay open and provide for their families and communities, Pennsylvania Gov. Tom Wolf (D) joined a large gathering of non-socially-distanced Black Lives Matter protesters in the state capital of Harrisburg.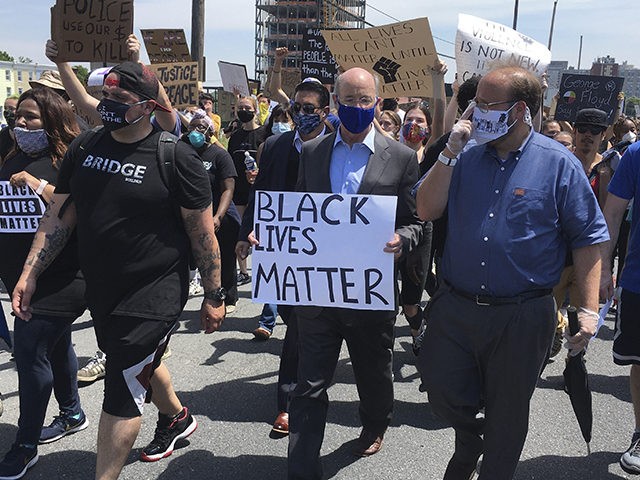 This is why you have reporters at press conferences. Levine is asked about @GovernorTomWolf calling officials coward and then marching today in Harrisburg. Wait for the end. pic.twitter.com/6VkaYyMpwr

— Real_Dave_La_Torre ???? (@David_LaTorre) June 3, 2020
#11 – Biden Supporters Celebrating His Faux "Victory" with Packed Crowds and Sharing Champagne Bottles
"Super spreader" event, anyone?
Gavin Newsome tells us we can't celebrate Thanksgiving with our families but Biden supporters can share champagne bottles at a packed rally.pic.twitter.com/rjZjmp8TPJ

— LifeNews.com (@LifeNewsHQ) November 7, 2020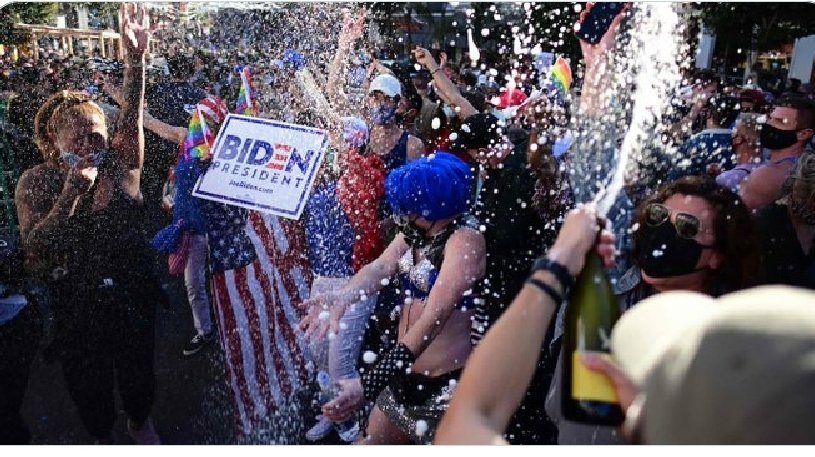 #10 Speaker of the House Nancy Pelosi
We bet Nancy Pelosi wishes the videos of her urging people to come to Chinatown when Trump banned travel from China would disappear. Pelosi and Biden accused the President of being xenophobic and fear mongering. Then, Pelosi went so far as to tell Americans that "everything is fine" and "all is well" and to come to Chinatown to shop and eat. Meanwhile, we now know the president's decision (even according to Emperor Fauci) likely saved many American lives.
On February 24 there were 15 cases of the coronavirus confirmed in the U.S.

Nancy Pelosi went to Chinatown & urged Americans to shop & eat there.

"Everything is fine," she said. "All is well."

"Come to Chinatown… We just want everybody not to be afraid to come to Chinatown." pic.twitter.com/SI9EELciYx

— Trump War Room (@TrumpWarRoom) April 15, 2020
To make matters worse, at the height of the pandemic when businesses were closing due to lockdowns, Nancy Pelosi went and had her hair done at a salon, indoors without a mask. While salons had to abide by an outdoor only policy, that clearly did not apply to the Democrat Speaker of the House who even went so far as to say she was setup by the salon.
#9 California Senator Dianne Feinstein
In June, Senator Feinstein urged the Federal Aviation Administration and the Federal Transit Administration to require employees and passengers to wear masks while in airports, on planes and when taking mass transportation yet here she is walking through the airport without one.
Here's Feinstein in the halls of Congress without her mask as well:
Sen. Dianne Feinstein (D-CA), without a mask, walks through the corridor before today's Facebook/Twitter CEO hearing. pic.twitter.com/lYTVMEa3Dw

— The Recount (@therecount) November 17, 2020
#8 – Democrat Mayor Lori Lightfoot of Chicago
Lightfoot does not seem to see the hypocrisy in celebrating in the streets in a packed crowd, yelling in a megaphone while not wearing a mask, then only days later enacting strict lockdowns and telling people to cancel "traditional Thanksgiving plans."
This is a great day for our city and our country. We are taking our democracy back. #BidenHarris2020 pic.twitter.com/OAZQPd1r4y

— Lori Lightfoot (@LoriLightfoot) November 8, 2020
#7 – Democrat Senator Chuck Schumer of New York
Senate Minority Leader Chuck Schumer (D-NY) constantly berates people to wear masks, but he removed his own mask to celebrate with a non-socially-distanced crowd of Biden supporters in New York City, seemingly tossing aside all his fears of the China Virus in the city that was once considered the largest hotspot in the country.
Wear a mask.
Wear a mask.
Wear a mask.
Wear a mask.
Wear a mask.

We can get COVID-19 much more under control if we all wear one.

— Chuck Schumer (@SenSchumer) July 15, 2020
WATCH: Sen. Schumer sings 'Na Na Hey Hey Kiss Him Goodbye' with Biden supporters in Times Square https://t.co/RIt75D691B #Election2020 pic.twitter.com/GaaU6Co6bU

— The Hill (@thehill) November 7, 2020
Sen. Chuck Schumer is celebrating at Grand Army Plaza with hundreds of people. "Our long fight is over," he tells the growing crowd pic.twitter.com/tmS6x3vw0g

— Josefa Velásquez (@J__Velasquez) November 7, 2020
#6 – Pope Francis and the NBA
Just days after hosting a maskless and non-socially-distanced delegation of NBA players at the Vatican to discuss racial and social justice issues, his holiness penned a lovely Thanksgiving Day op-ed in the New York Times slamming Americans who are opposed to draconian COVID-19 lockdowns for a disease with a 99 percent-plus survival rate for a vast majority of the population.
Francis wrote, "As if measures that governments must impose for the good of their people constitute some kind of political assault on autonomy or personal freedom!"
"It is all too easy for some to take an idea — in this case, for example, personal freedom — and turn it into an ideology, creating a prism through which they judge everything," he added.
No masks. These NBA players were on an overnight flight from the US just yesterday and met with the pope hours after landing. Beyond bizarre, that Francis prefers these meetings mask-free. https://t.co/UcB9HPSYbs

— Chico Harlan (@chicoharlan) November 23, 2020
(Where are the masks??)
Five NBA players and several officials from the NBPA met with Pope Francis at the Vatican on Monday to discuss their work on social justice issues.

(via Vatican TV) pic.twitter.com/ThM2NWroYM

— NBA on ESPN (@ESPNNBA) November 23, 2020
#5 – Chris Cuomo
Despite his brother, Governor Andrew Cuomo saying it was "disrespectful" of people not to wear masks because it could "literally kill someone," CNN host Chris Cuomo constantly scolds people who don't wear masks while never really wearing one himself.
Management at Cuomo's Manhattan apartment building sent the CNN anchor a letter, obtained by Fox News' "Tucker Carlson Tonight," that warned him for repeatedly violating the order, and threatened him with a $500 fine.
"You have been observed entering and exiting the building and riding the elevator without the required face coverings," reads part of the Aug. 6 letter.
"Even though staff members have asked you to comply with this requirement, you have refused to do so. This is a violation of the Executive Order, building policy, and places other residents and our staff at risk. There are no exceptions to this rule, and you are required to comply."
Here he is below getting a haircut with no mask on:
Wait, is this @ChrisCuomo not wearing a mask while getting a haircut in NYC near 80th & Broadway?!

Would be a shame if everyone saw his hypocrisy pic.twitter.com/xURkPk0Q8t

— Rogan O'Handley ???????? (@DC_Draino) November 1, 2020
He was also spotted shaking hands and greeting people without a mask at a private members club.
#4 – Denver Mayor Michael Hancock
30 minutes before he boarded his flight to spend Thanksgiving with his family, Hancock's Twitter account sent out the below message to avoid travel and stay home.
See our full story on it here.
Pass the potatoes, not COVID.

????️Stay home as much as you can, especially if you're sick.
????Host virtual gatherings instead of in-person dinners.
❌Avoid travel, if you can.
????Order your holiday meal from a local eatery.
????Shop online with a small business for #BlackFriday. pic.twitter.com/acQpWs2Ism

— Michael B. Hancock ???? (@MayorHancock) November 25, 2020
#3 – Dr. Anthony Fauci Director of the National Institute of Allergy and Infectious Diseases 
The man who is in charge of telling the entire country to wear masks and shut down is seen wearing his mask around his chin while sitting right next to other people.
He defended himself by saying he pulled it down to drink water but as you can see from the pictures, he is using his phone and just watching the game.
#2 – Governor Gavin Newsom of California 
Newsom had the audacity to attend an indoor birthday dinner party at a fancy French restaurant despite telling his constituents to stay home and take precautions. Even worse, officials from the California Medical Association attended the party. No one was wearing masks as they all sat right next to each other. They also reportedly racked up a $15,000 alcohol tab.
EXCLUSIVE: We've obtained photos of Governor Gavin Newsom at the Napa dinner party he's in hot water over. The photos call into question just how outdoors the dinner was. A witness who took photos tells us his group was so loud, the sliding doors had to be closed. 10pm on @FOXLA pic.twitter.com/gtOVEwa864

— Bill Melugin (@BillFOXLA) November 18, 2020
#1 – Governor Andrew Cuomo of New York
Despite killing thousands of New Yorkers with his irresponsible COVID nursing home policies, the International Academy of Television Arts & Sciences gave Governor Cuomo an Emmy. This award was not–as one might suspect–for best television murder series, but for the politician's "leadership" throughout the pandemic. "The Governor's 111 daily briefings worked so well because he effectively created television shows, with characters, plot lines, and stories of success and failure," said International Academy President & CEO Bruce L. Paisner in a statement. "People around the world tuned in to find out what was going on, and New York tough became a symbol of the determination to fight back."
Cuomo, who has oftentimes said not wearing masks could kill people, has also been spotted numerous times without a mask:
Found this picture of someone without a mask on the internet today. https://t.co/NlmjKCY9kC pic.twitter.com/mWubulugQB

— Janice Dean (@JaniceDean) August 31, 2020
Mr. wear your mask not wearing a mask in Georgia. pic.twitter.com/MGPS0ucQNf

— Janice Dean (@JaniceDean) July 23, 2020
Recently, the dictator–we mean Governor–also urged everyone to cancel traditional Thanksgiving plans and stay home.
"Your family sounds safe, doesn't it?" he said. "No, you won't be safe. It's an illusion. My sister loves me. My sister could infect me — not maliciously, but accidentally."
He then admitted he was going to be hosting a small gathering with his daughters and 89-year-old mother before canceling the plans once he was called out for being a raging hypocrite.