County Officials from Uvalde, Kinney, Terrell, Medina, Burnet, and Goliad Counties met in Texas on Tuesday to express concerns over the invasion of the United States by illegal aliens crossing into Texas from Mexico.
A press release details and breaks down how many illegals have been apprehended at the unsecured border.
"Since January 2021, more than 3.2 million illegal aliens have been apprehended after unlawfully entering the United States. More than 800,000 illegal aliens have avoided apprehension while unlawfully entering the United States and remain unaccounted for within our nation. So far this year, CBP has identified more than 50 known terrorists who have unlawfully entered the United States through our unsecured border with Mexico. The sophisticated human smuggling and drug trafficking organizations that facilitate these criminal acts are spearheaded by violent international drug cartels who have operational control over our unsecured US/Mexico border," the statement said.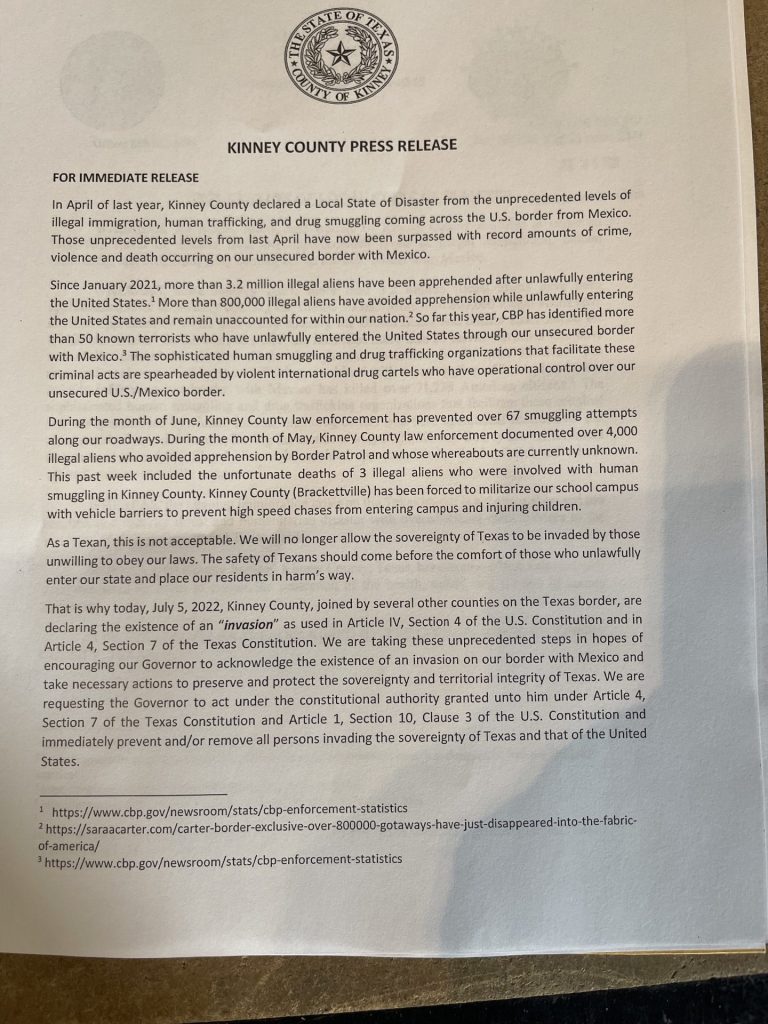 "During the month of June, Kinney County law enforcement has prevented over 67 smuggling attempts along our roadways," the statement reads. "This past weekend included the unfortunate deaths of 3 illegal aliens who were involved with human smuggling in Kinney County."
"As a Texan, this is not acceptable," Tully Shahan wrote. "We will no longer allow the sovereignty of Texas to be invaded by those unwilling to obey our laws."
"That is why today, July 5, 2022, Kinney County, joined by several other counties on the Texas border, is declaring the existence of an "invasion" as used in Article IV, Section 4 of the U.S. Constitution and in Article 4, Section 7 of the Texas Constitution."
"We are taking these steps in hopes of encouraging our Governor to acknowledge the existence of an invasion on our border with Mexico and take the necessary actions to preserve and protect the sovereignty and territorial integrity of Texas."
Texas Governor Greg Abbott has not officially commented on the declaration.