As bizarre and out-of-hand as leftist-run public schools are getting, an episode that occurred earlier this week took the cake.
A pro-LGBTQ eighth-grade teacher in Oklahoma sporting a punk-rock coif posted a profanity-laced tirade to TikTok — now deleted — disparaging parents who allegedly don't love their trans- or gay kids and declaring that he was their parent now.
"F**k parents who don't love and accept you for who you are," Tyler Wrynn said in the video, adding: "I'm your parents now."
Well, he's no longer 'teaching' at that school.
"Tyler Wrynn is no longer in the classroom, and the Board of Education accepted his resignation on April 11 at its regular monthly meeting," Owasso Public Schools told TheBlaze in a statement Tuesday. "As this is a personnel issue, we are unable to provide further comment."
Here's the video in question (Strong language warning):
Apparently deleted video from an 8th-grade public school teacher: pic.twitter.com/pYeMQkShWX

— Dave Urbanski (@DaveVUrbanski) April 12, 2022
The Blaze noted that it is not clear if the above video was a reason for Wrynn's departure, but Libs of Tik Tok — which posted the clip first — said the video in question and "others containing questionable content were brought to the principal's attention."
Wyrnn taught English at the school.
The outlet also noted that Libs of Tik Tok posted a screenshot of a message Wrynn apparently posted in a private Facebook group in which he detailed the situation: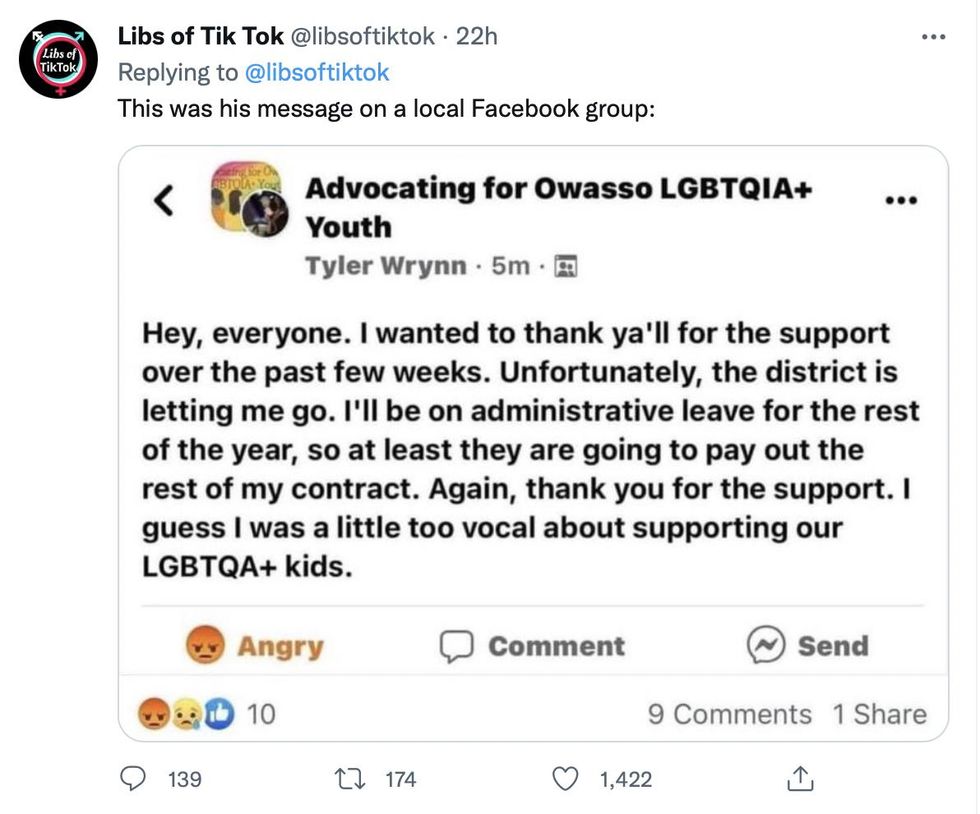 The Blaze adds:
The phrase "I'm your parents now" that Wrynn used in the video is not unique. There are shirts for sale using a variation of the phrase as part of LGBTQ advocacy. In addition, Newsweek ran a story last month detailing a controversial sign posted on a Wisconsin high school staff member's door telling students "If Your Parents Aren't Accepting Of Your Identity I'm Your Mom Now."
High school staff member in Eau Claire, WI displays poster that tells students, "I'm Your Mom Now."https://t.co/SeWL30jrM6 pic.twitter.com/xuDAMDtznw

— Parents Defending Education (@DefendingEd) March 7, 2022
Christopher Jorgenson, director of the Gender and Sexuality Resource Center at the University of Wisconsin-Eau Claire, told Newsweek that the poster "is symbolic of a much larger issue" regarding "when queers are abjectly and completely rejected by their families." He also told the magazine that "the authors of the poster understand that while you cannot replace the person to whom someone was born, you can in fact serve as a mother or father figure."
America's public schools, which were already controlled by left-wing teachers' unions, are becoming breeding grounds for some of the most aberrant sexual deviancies known to humans, and all of them are supported, by and large, by the Democratic Party. The fact that there is any support whatsoever for exposing children as young as kindergarten to transgender and sexual identity discussions and materials is obscene, in and of itself.
But this is only going to get worse, so the best advice at this point is a) run for school board; b) get your kids out of the public schools, which is actually happening at a quickening pace in deep-blue California, of all places.