Bill Burr can certainly handle his own when it comes to ripping apart a heckler but in the case of a recent Twitter troll, Burr's wife, actress Nia Renée Hill only needed a few choice words after the troll suggested she may be a "minority sex servant" and that Burr's marriage to her could be a "sign of racism."
Burr, known for his many highly rated comedy specials and for playing Migs Mayfield in Disney's "The Mandalorian," became the target of a cancel campaign on social media starting Sunday night for jokes he made while presenting an award at the 2021 Grammy Awards.
At one point during the outrage, during which Burr was accused of being a racist, one Twitter user noted that the comedian's wife, Hill, is a black woman. But that didn't satisfy failed politician turned Twitter troll Clayburn Griffin, who felt it was necessary to point out that the couple's marriage could be a sham.
"While I'm not suggesting Bill Burr is a racist, a white man having a non-white wife can sometimes be a sign of racism," Griffin articulated. "So you shouldn't assume someone isn't racist just because they own a minority sex servant. They may very well have one because they're racist."
Hill did not take the comment lightly and decided to tear down the troll with a few choice words of her own.
"B**ch, shut the f**k up," she tweeted in response.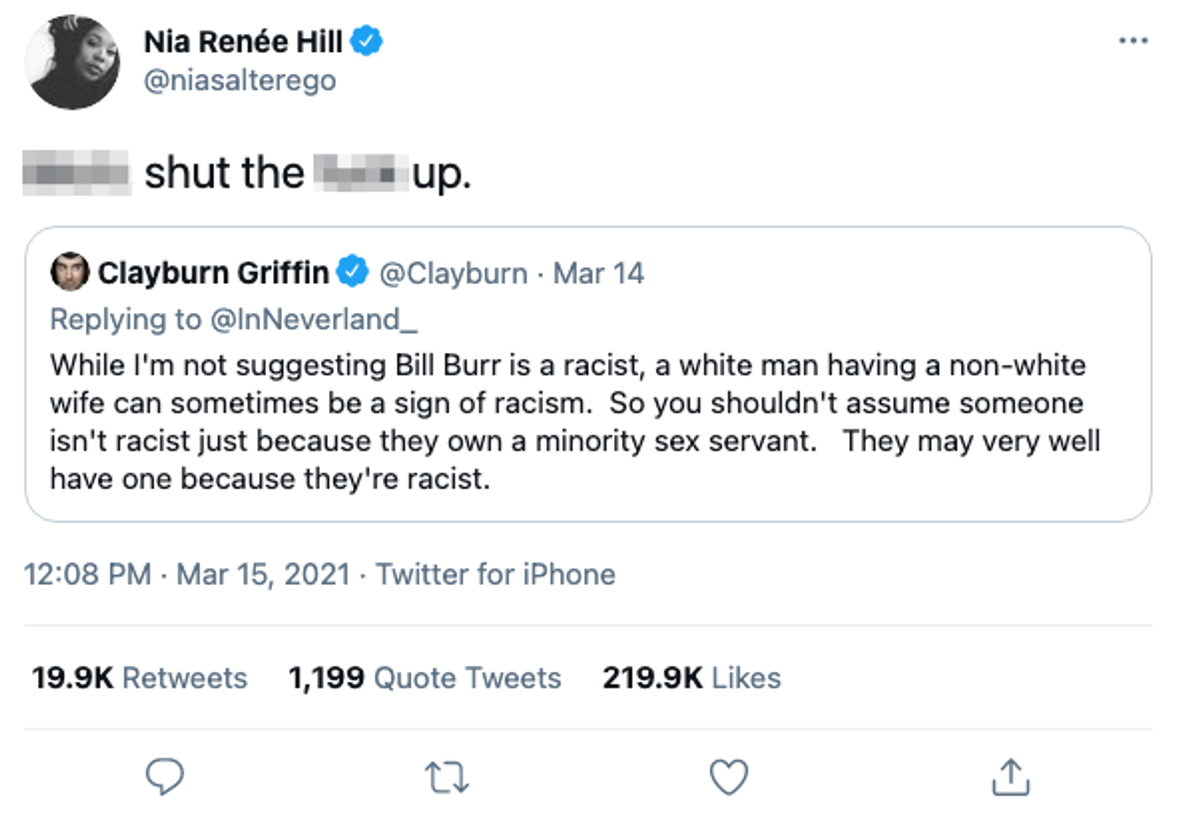 Clayburn trying to defend his abhorrently racist remarks wrote back to Hill saying, "as I mentioned, I'm not referring to you or Bill. I don't know you two," as if that justifies calling someone a "minority sex servant."
As I mentioned, I'm not referring to you or Bill. I don't know you two.

— Clayburn Griffin (@Clayburn) March 15, 2021
'Oh, the Places You Won't Go.' Six Dr. Seuss Books Canceled for Racist Imagery
---
Six books from the iconic Dr. Seuss series of children's books will "stop being published because of racist and insensitive imagery, the business that preserves and protects the author's legacy said Tuesday," reported by the Associated Press. Dr. Seuss Enterprises told the AP in a statement, "these books portray people in ways that are hurtful and wrong."
"Ceasing sales of these books is only part of our commitment and our broader plan to ensure Dr. Seuss enterprises' catalog represents and supports all communities and families," said the statement. Books on the chopping block are "And to Think That I Saw It on Mulberry Street," "If I Ran the Zoo," "McElligot's Pool," "On Beyond Zebra!," "Scrambled Eggs Super!," and "The Cat's Quizzer."
Dr. Seuss Enterprises said the company's decision was made last year after they "listened and took feedback from our audiences including teachers, academic and specialists in the field as part of our review process. We then worked with a panel of experts, including educators, to review our catalog of titles."
In 2017  after first lady Melania Trump donated Dr. Seuss books to a school library in Cambridge, Massachusetts, the school's librarian criticized the gift saying many of his works were "steeped in racist propaganda caricatures, and harmful stereotypes."
Arguably one of the most famously well-known and loved Dr. Seuss books is "The Cat in the Hat" which has also come under criticism but the Enterprise says it "will continue to be published for now." The AP reports how popular Dr. Seuss remains, "earning an estimated $33 million before taxes in 2020, up from just $9.5 million five years ago, the company said." In 2020 Forbes listed him as the second-highest-paid dead celebrities behind pop star Michael Jackson.
Cancel Culture Continues: Disney+ Removes Peter Pan, Dumbo from Kid's Profile Accounts
---
Cancel culture's latest victims include the films Dumbo, Peter Pan, Swiss Family Robinson and The Aristocats.
The Washington Examiner reports that Disney+ has removed the movies from children's profile accounts and added warnings for adults due to the portrayal of offensive stereotypes in the films.
Disney says Dumbo was removed because, "The crows and musical number pay homage to racist minstrel shows, where white performers with blackened faces and tattered clothing imitated and ridiculed enslaved Africans on Southern plantations. The leader of the group in Dumbo is Jim Crow, which shares the name of laws that enforced racial segregation in the Southern United States."
As far as Peter Pan goes, "the film portrays Native people in a stereotypical manner that reflects neither the diversity of Native peoples nor their authentic cultural traditions. It shows them speaking in an unintelligible language and repeatedly refers to them as 'redskins,' an offensive term. Peter and the Lost Boys engage in dancing, wearing headdresses and other exaggerated tropes."
In the Aristocats, "the (Siamese) cat (Shun Gon) is depicted as a racist caricature of East Asian peoples with exaggerated stereotypical traits such as slanted eyes and buck teeth."
According to the Daily Caller, the warning message that appears before the movies on adult accounts states:
"This program includes negative depictions and/or mistreatment of people or cultures. These stereotypes were wrong then and are wrong now. Rather than remove this content, we want to acknowledge its harmful impact, learn from it and spark conversation to create a more inclusive future together. Disney is committed to creating stories with inspirational and aspirational themes that reflect the rich diversity of the human experience around the globe…"