Bill Burr can certainly handle his own when it comes to ripping apart a heckler but in the case of a recent Twitter troll, Burr's wife, actress Nia Renée Hill only needed a few choice words after the troll suggested she may be a "minority sex servant" and that Burr's marriage to her could be a "sign of racism."
Burr, known for his many highly rated comedy specials and for playing Migs Mayfield in Disney's "The Mandalorian," became the target of a cancel campaign on social media starting Sunday night for jokes he made while presenting an award at the 2021 Grammy Awards.
At one point during the outrage, during which Burr was accused of being a racist, one Twitter user noted that the comedian's wife, Hill, is a black woman. But that didn't satisfy failed politician turned Twitter troll Clayburn Griffin, who felt it was necessary to point out that the couple's marriage could be a sham.
"While I'm not suggesting Bill Burr is a racist, a white man having a non-white wife can sometimes be a sign of racism," Griffin articulated. "So you shouldn't assume someone isn't racist just because they own a minority sex servant. They may very well have one because they're racist."
Hill did not take the comment lightly and decided to tear down the troll with a few choice words of her own.
"B**ch, shut the f**k up," she tweeted in response.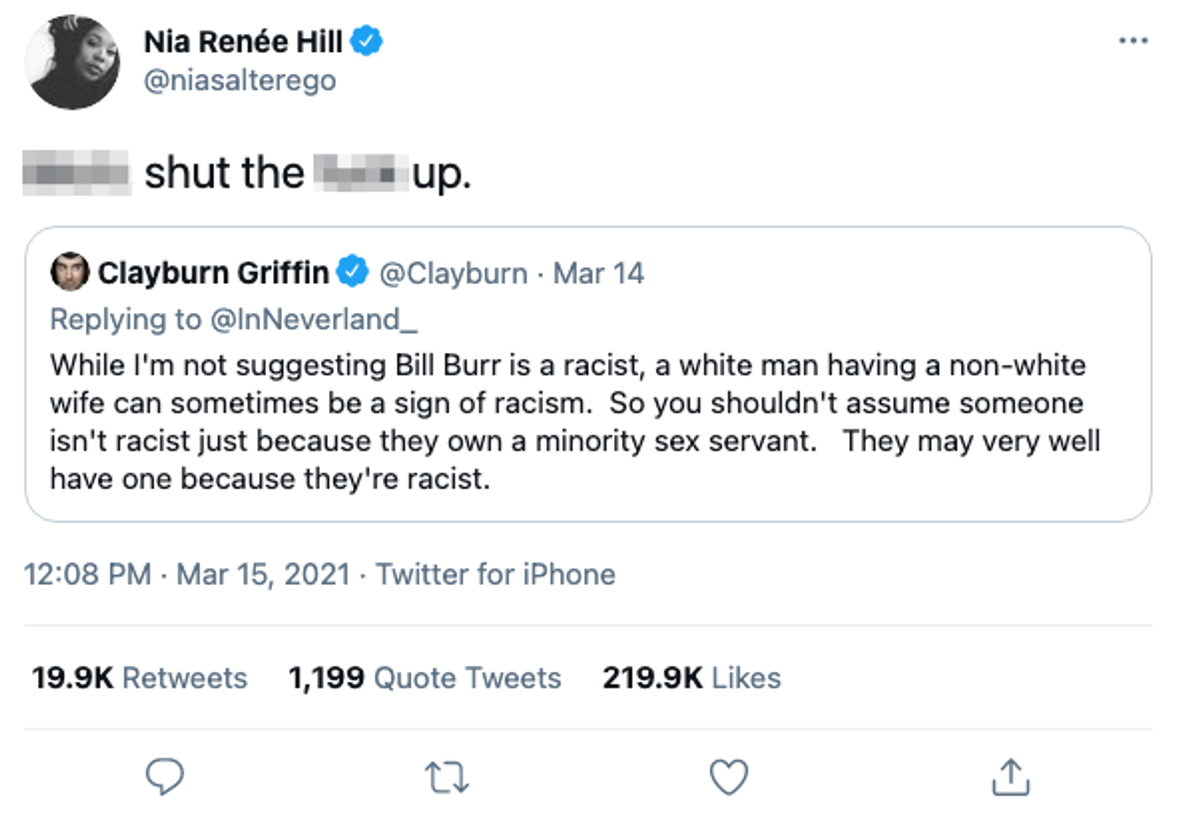 Clayburn trying to defend his abhorrently racist remarks wrote back to Hill saying, "as I mentioned, I'm not referring to you or Bill. I don't know you two," as if that justifies calling someone a "minority sex servant."
As I mentioned, I'm not referring to you or Bill. I don't know you two.

— Clayburn Griffin (@Clayburn) March 15, 2021